We talked already about how to promote your bar and make it successful for a long time. Here we bring together the most expensive cocktails from all over the world, maybe you can get a few ideas and invent your own.
Original Mai Tai – Price: € 1,127
It is served at the Merchant Hotel in Belfast and is a combination of dark and white rum, which Victor J. Bergeron himself used in 1944 when he invented this drink. Just a 750ml bottle of original rum costs € 29,126.18
Sidecar – Price: € 1,569.12
Served at the Ritz in Paris. It is the most classic of the cocktails on the list, with all the charm that a contemporary Gatsby deserves. It is made with 1865 Fine Champagne Cognac Ritz and a splash of lemon juice. It was created in 1923 by bartender Frank Meier.
Macallan 55 Simple – Price: 3.758,37 €
It is more than just a drink, it is a luxury liquid. It is brewed in the Sky View Bar in Dubai, and uses 55 year old Macallan natural whiskey, combined with flavors of delicious dried fruit as well as passion fruit. Additionally, you can add water-based ice cubes flowing through Macallan's tubes.
Salvatore's legacy – Price: € 6,295.28
This drink can be found at London's Playboy Club and was created during an attempt to break a Guinness record by legendary bartender Salvatore Calabrese. The price is due to the ingredients used: Cognac Griffier Vieux Clos de 1778, Kummel liqueur from 1770, Orange Curaçao Dubb from 1860 and a small bottle of Angostura from the 19th century.
Gigi – Price: 9,395.97 €
It is served in the Gigi bar in London, and while not the most expensive in the world, it uses champagne as the basis for its making. To give you an idea containing fine gold flakes that will make you feel like King Midas.
Ono Champagne Cocktail – Price: 9,395.97 €
The extravagance of this cocktail is served with a pair of Mont Blanc cufflinks and an 18k diamond and pearl necklace, for those crazy lovers. Not only that, the cocktail contains Remy Martin Louis XVIII Perla Negra cognac (a shot of this cognac costs € 1879) and is accompanied by other equally expensive drinks. It is served at the XS Club, Las Vegas.
Martini "Diamonds Are Forever" – Price: 9,395.97 €
Served in the Uncorked bar and it looks like a regular martini, so what makes it so expensive? At the bottom of the drink you can find an engagement ring for a special and important occasion in life.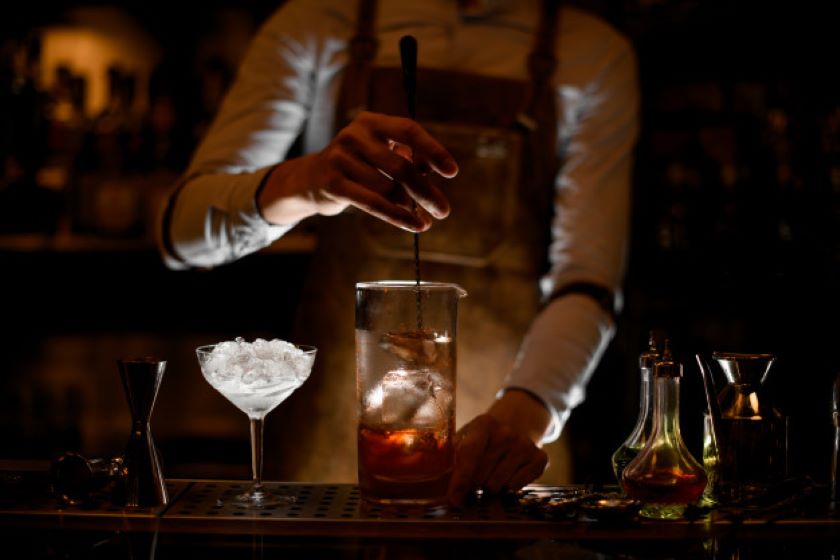 Winston – Price: € 11,275.17
This cocktail is served in Melbourne, Australia at Club 23. It takes two days to complete the creation process, for which treatment is used as the basis of the Cognac Croizet 1858 which costs € 147,513. The name refers to Winston Churchill.
Martini "Diamonds are Forever" Tokyo Version – Price: € 16,912.64
It is very similar to its cousin from the United States, but this is served at the Ritz-Carlton in Tokyo. Use diamond statements and, instead of a ring, it can have a pure one carat diamond inside. Definitely a very expensive drink for a very expensive city.
Ruby Rose – Price: € 37,582.72
It is the limited edition of a cocktail served in 2013 at the White Barn Inn in Kennebunk, Maine, United States. It was designed to commemorate the 40th anniversary of the place and initially consisted of a simple cocktail accompanied by a four-carat red ruby. You can also order the same cocktail without the touch of luxury, for a price of around € 16.